Dental implants are now a standard method to replace missing teeth and at Cambria we have extensive experience and success in fitting them. Implant therapy is a well-proven, state-of-the-
art medical dental technique, which has been scientifically tested and used in the last three decades by qualified dentists and surgeons worldwide.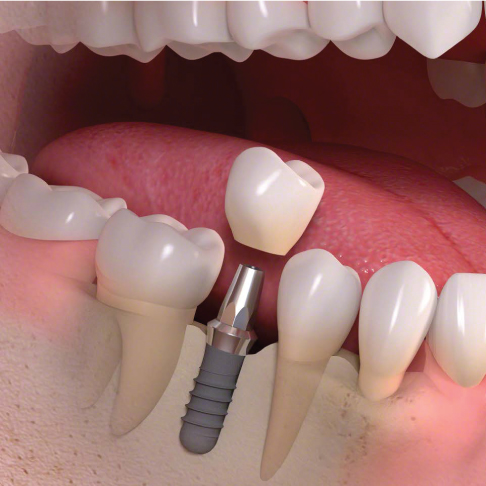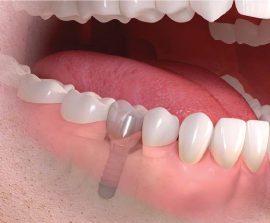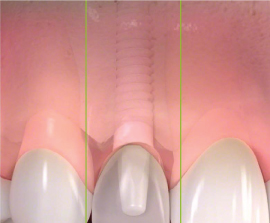 It can be deeply upsetting to have missing or damaged teeth, or to have or ill-fitting dentures or bridges. Dental implants offer an effective, long-term solution to many dental problems.
Dental implant treatment can bring back quality of life, comfort and esthetics. This has a positive impact on your self confidence and overallmental health – with teeth that look, feel and function like your natural ones. Dental implants
are suitable for most adults with good general health. They can be only used once the jawbone has stopped growing, so are not normally used with younger patients.
If you look after your teeth and implants properly, then a dental implant can last as long as your natural teeth.
A dental implant is a metal post or screw (usually made of titanium) that is surgically placed into your jawbone underneath your gums. In this way, the implant acts as a replacement for a natural tooth root. The implant will have an internal screw called an abutment that holds a false tooth or teeth in place. Once the implant is in place, we can use it to support crowns, bridges or dentures in a similar way as we would with the roots that support natural teeth.
A single dental implant can support one, or several, replacement teeth – so you don't need to have one implant for each replacement tooth. We can also use implants to support a full or partial set of dentures. We will carefully assess how many implants are needed in your particular case.
The main aim when placing the implant is to get close contact with the surrounding bone. When the implant is placed into the jawbone, the surrounding bone will grow around and fuse onto it in a process called osseo-integration. This produces a strong foundation and allows us to secure the artificial tooth or teeth in a very stable way. Dentures and bridges mounted to implants won't shift in your mouth and this secure fit makes them feel more natural than conventional bridges or dentures.
Implants need to be anchored in the jaw bone like natural teeth. If there isn't sufficient bone available, we may still be able to place implants with the help of bone augmentation – an established treatment used to help build up bone. Here at Cambria, we can add new bone if you don't have enough bone in your jaw to support your dental implant.
The cost of a dental implant will vary depending on the treatment plan that has been developed for you. Your treatment plan will be discussed fully and you will have the opportunity to ask any questions before commencing any treatment.
The process of having dental implants varies from person to person, so you will need to discuss with us what will happen in your case. As a guide, it can take between three and nine months to complete the whole process.
Dental implants are fitted using the same anesthetics as you would receive for routine dentistry.
Depending on how complex your particular treatment plan is, the surgery can take anywhere between 30 minutes for a single implant to two hours for multiple implants.
As your surgery will normally involve exposing bone in the area where the implant will be placed, you can expect some minor swelling and possibly bruising after your treatment. For the vast majority of patients, the over-the-counter painkillers that you would get from a pharmacist for a headache will be adequate to relieve any discomfort. But if you were to experience any discomfort that could not be treated with these painkillers, then the oral surgeons at Cambria are able to prescribe stronger medication for you.
Implant treatment normally involves several stages over a period of time from three to nine months. You will be required to have several appointments with us in Cambria. Although each case is different from the others, our typical process includes:
Assessment and treatment planning: an initial consultation where we look at all alternatives and your suitability for treatment. We will take X-rays and produce computer images and physical models of your teeth. We will produce a written treatment plan which outlines the steps we will follow and the associated costs. We will also assess the level of underlying bone you have to see if it is sufficient to support the implant.
Implant placement: a relatively minor surgical procedure which we carry out in the dental surgery. We perform the surgery under local anaesthetic and we may use sedation if required. At this stage, we will also complete any bone grafts or regeneration that is required if your underlying bone is insufficient.
Integration: this is when the implant fuses with your bone and can take from six weeks to six months. We will have prepared temporary dentures or bridges for you to wear during this stage. We may be able to place a temporary tooth onto the implant as it osseo-integrates (a process called 'immediate loading'). This allows you to enjoy a natural looking smile quite early in the process. After approximately one week, the stitches are removed. Diligent oral hygiene is now vital for successful healing.
Manufacture: as your implant bonds itself to the bone during the healing phase, we work with our laboratory partners to create your personalised tooth or teeth.
Restoration: once the healing phase is over and your implant has integrated, we can load it with the required teeth. Your final restoration is connected to the implant, leaving you free to smile, bite and chew like before.
Aftercare: once healed, the implant is part of your body, and just like a natural tooth, it requires regular check-ups and conscientious oral hygiene. With normal, but appropriate care, the long-term function of your implant can be maintained for decades. We will meet to review the situation regularly to ensure the treatment has been successful.
At Cambria, we only use Straumann implants. Straumann is a leading dental implant company that has been researching, developing and manufacturing implants since 1974.
Straumann components are manufactured under consideration of internationally accepted quality standards – with high precision and documented clinical research.
Through Swiss precision engineering and clinical excellence, the Straumann Dental Implant System has earned worldwide trust. Clinicians in over 70 countries have placed more than 14 million Straumann implants.
With a Straumann implant, you can fully trust in its longevity and in the long-term availability of components. Straumann provides a lifetime guarantee for implants should they have to be replaced. Despite changes in models, designs or technology, Straumann ensure the availability of the necessary parts to service and restore any implant placed, for many years to come.